Custom Orthotics for Patients with Diabetes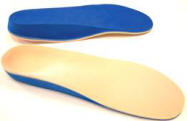 SADMERC Reviewed A5513
When ordering, please send the shoes (or an outline of the insoles from the shoes) in which the orthotics will be worn.
Ortho-Soft custom EVA orthotics are mainly indicated for patients with diabetes and others who are unable to tolerate rigid functional devices. Rather than controlling the foot, Ortho-Soft orthotics are designed to accommodate a variety of foot disorders. EVA orthotics can provide significant off-loading and protection of Charcot foot deformities both pre and post operative.
The flexibility of the EVA allows Ortho-Soft orthotics to accommodate to the contour of the patients shoes, thereby making fitting much easier than rigid orthotics.
The foot bed (shell or base layer) is constructed of 35 durometer EVA. These orthotics are designed using impressions (either semi-wt. bearing foam, neutral position plaster or scans) taken of the patients feet. The impressions are corrected on the CAD/CAM system and the orthotics are milled from a block of EVA using a CNC router.
Standard top cover cushions include a bilaminate of 1/16" Poron plus 1/8" P-Cell. Optional cushions include: 1/18" Poron plus P-Cell, Spenco and X-Static. Custom modifications may include metatarsal pads, heel pads, plantar fascia grooves and cut outs (accommodations) for various other foot problems.