Functional Foot Orthotics
Functional foot orthotics are devices that are designed to improve or restore biomechanical function of the feet. Technically, the term "orthotics" is not the proper term to describe corrective mechanical foot devices. Orthotics (Greek: Ορθός, ortho, "to straighten" or "align") is actually a specialty within the medical field concerned with the design, manufacture and application of orthoses. An orthosis (plural: orthoses) is an orthopedic device that supports or corrects the function of a limb or the torso.
Therefore the proper term for the devices is actually orthoses (singular: orthosis). Because it is easier to pronounce the word orthotic than it is orthosis or orthoses, the term orthotic is most commonly used and recognized.
---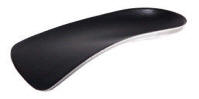 Polypropylene Functional Orthotics
Polypropylene is an excellent material for foot orthotics. It is very durable and heat adjustable. Based on patients weight and foot size, the relative flexibility or rigidity of the orthotics can be provided by utilizing the appropriate thickness of the polypropylene. The range of material thicknesses is: 3/32", 1/8", 5/32", 3/16" and 1/4". This type of device is an all-purpose orthotic for regular shoes and general everyday use. Most cushion and cover materials adhere well to polypropylene.
---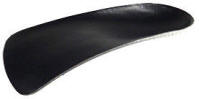 TL 2100 Functional Orthotics
TL 2100 is a thermoplastic acrylic-carbon fiber composite laminate, which is very rigid. This material is thin, lightweight and strong. It is also heat adjustable. These orthotics can be posted and covered with most materials. TL 2100 is available in 1.8 mm, 2.2 mm and 2.8 mm thicknesses. The heel cups cannot be formed deeper than 14 mm using TL 2100.
---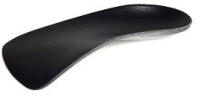 Carboplast Functional Orthotics
Carboplast material is produced using high strength carbon and glass fibers in a tough, unique polypropylene matrix. Carboplast is NOT heat adjustable. Carboplast is more flexible than TL 2100. It is available in semi-rigid 2.0 mm, rigid 2.5 mm and x-rigid 2.9 mm thicknesses.